Medical Office & Facility Cleaning Service in Chicago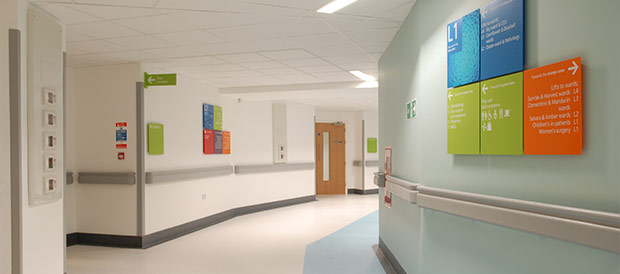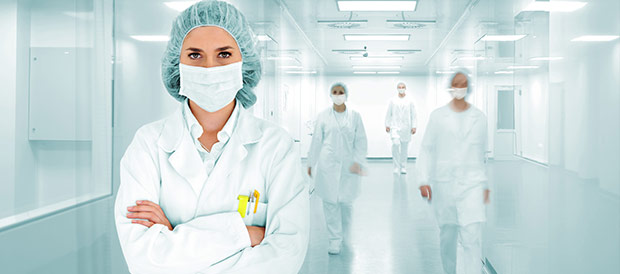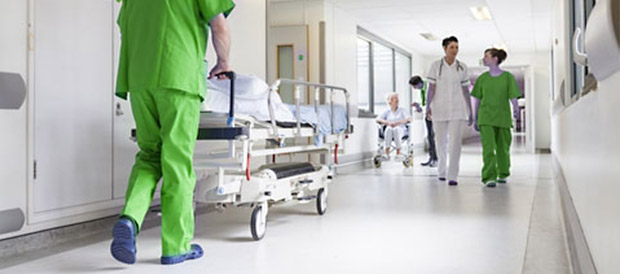 For nearly 25 years, clinics, hospitals, and medical office facilities all over Chicago have trusted our Commercial Cleaning Services to provide them with the best possible janitorial services available in Illinois. This is the service area our cleaning company starting in, and this is where we excel. From strict state health codes to OSHA standards, we understand medical cleaning, and are the most recognized medical office cleaning service around Chicago.
Every year about two million people are affected by health-care-associated infections, yet one third of those cases are considered preventable if proper measures and procedures were in place. Not surprisingly, now more than ever, laws are being passed by state governments that require hospitals and medical facilities to hire companies that specializes in medical cleaning in order to prevent the spread of infection. Furthermore, recent Hospital Consumer Assessments of Healthcare Providers and Systems (HCAHPS) evaluation survey takes into account the cleanliness of the healthcare environment and allows for reduced reimbursement for poor quality services, which cleanliness is part of.
Cleaning Staff Identification
In addition to integrating our cleaning staff into your access control systems, we also provide our own security ID credentials. For added protection, all janitorial employees are drug screened and background checked with the State of Illinois.
Hazardous Waste Handling
Depending on medical facility, all of our cleaning personnel are put through the appropriate hazardous waste training classes or certification. This ensures not only the highest safety standards, but the appropriate compliance as well.
Maintaining Chicago's Top Medical Facilities since 1991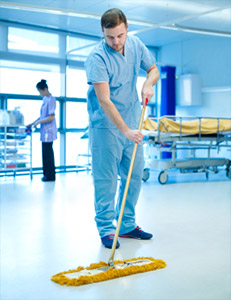 The management and staff at Chicago Commercial Cleaning takes medical cleaning very seriously and understands the importance in providing hospitals, clinics, labs, and dental offices throughout the Chicagoland area properly trained janitorial personnel. Unlike other commercial cleaning services, we specialize in the medical industry and work hard to ensure that your employees and patience continually have a safe facility to visit and work in. Our staff closely follows all regulations from agencies like HIPPA and OSHA to help eliminate any contamination risks such as blood-borne pathogens. With Chicago Commercial maintaining your facility, your employees, patients, and visitors will never have to be concerned with safety issues. Call us today for a free estimate and walk-through of your facility and we'll put together a cleaning plan, schedule and cost structure we guarantee you'll be happy with.
Chicago Commercial Cleaning's ability to offer diverse maintenance services to its clients goes beyond Chicago limits and includes: North Chicago, Aptakisic, Deerfield, Glencoe, Lincolnshire, Long Grove, Glenview, Wilson, Morton Grove, Northfield, Golf, Evanston, Deer Park, Highland Park, Grayslake, Lake Bluff, Fairfield, Buffalo Grove, Indian Creek, Quentins Corners, Green Oaks, Lincolnwood, Wheeling, Diamond Lake, Riverwoods, Skokie, Kenilworth, Prairie View, Highwood, Winnetka, Vernon Hills, Gurnee, Waukegan, Bannockburn, Northbrook, Mettawa, Wilmette, Lake Forest, Libertyville.
We work across Chicago and in northwest surrounding town and villages including Rolling Meadows, Arlington Heights, Inverness, Harwood Heights, Rosemont, Cary, Crystal Lake, Hoffman Estates, Schaumburg, Barrington, Fox Lake, Park Ridge, Mount Prospect, Palatine, Lake Zurich, Des Plaines, McHenry, Prospect Heights, Niles, Kildeer, South Barrington, Barrington Hills, North Barrington, and Elk Grove Village.